Dear Readers, this weekend is very special to me. We are celebrating Midsummer celebration here in Lithuania and we will have a long weekend. Moreover, this weekend I'm celebrating my birthday! You can leave your greetings in the comments :) hehe, joking. But all these celebrations mean that I will be posting the next week. Patience, please ;)
Herewith I would also like to remind you that GFC is closing so if you want to stay connected - do not forget to follow me with bloglovin. My blog details - below.
Have a nice, colorful weekend!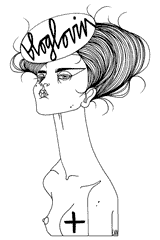 Sveikos, šis savaitgalis man nusimato labai intensyvus, ir ne tik todėl, kad minėsime vidurvasario šventę - Rasas, Kupolines, Jonines, ar kaip tik Jums priimtina. Šį savaitgalį taip pat švęsiu savo gimtadienį. Linkėjimus galite palikti komentaruose. Juokauju :)
Pastaruoju metu laiko blog'ui nelieka tiek daug, kiek norėčiau, todėl paprašysiu Jūsų kantrybės, kadangi iki ateinančios savaitės vidurio įrašo neplanuoju. Leisiu sau pašvęsti ilgiau.
Ir dar tuo pačiu noriu priminti, jog Google Friend Connect baiginėja savo veiklą ir lengviausias būdas savo mėgstamus blogus sekti yra Bloglovin. Mano kontaktus rasite virš šio teksto. Nepraraskime ryšio ;)
Gero ilgojo savaitgalio!
Stay Beautiful!
Makeup Demon